Available early June 2022. Take a sneak peek at Leslie's newest book! Mid-Century Chic showcases timeless fashion illustrations by Lucia Perrin with 52 Plates and offers a textual history of Fashion illustration and the life of Lucia and her chosen career. See below for Plates 20 and 46.
20. Printed loose color bulletin page. Almost full-length female figure with hat, gloves, and handbag, in a red and pink floral printed sheath dress with a bow on the bodice, and three-quarter sleeves; a second, smaller sketch in black and white shows the zippered back of the dress. [October 1958; issued by Hausen, Holfman & Weinberg.] Page size: 11" high by 8 ½" wide.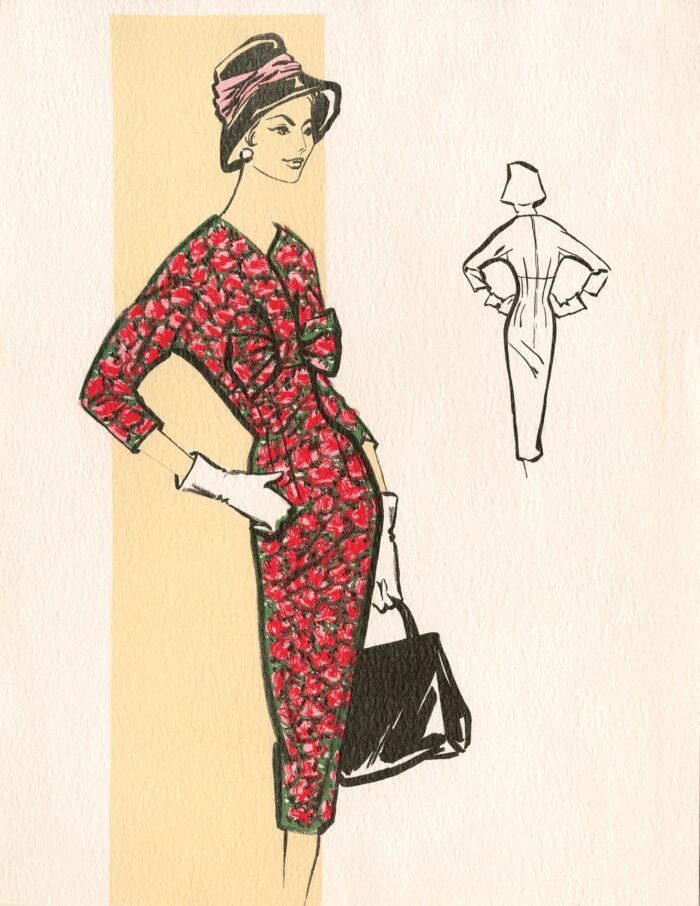 46. Original pen and ink sketch with wash, highlights, and silhouetting of lines, on paper. Three-quarter female figure (hatted and gloved) in a sleeveless, belted dark dress with full pleated skirt. Sketch bears notes in pencil. Undated [early 1960s]; print use undetermined. Image size: 16 ½" high by 7" wide.